Can you imagine an aquarium without any bottom intake water pump? At least I can't because this single thing can play a significant role in bringing extra beauty into your aquarium and eliminating pesky little dirt at the same time.
But when you think about submersible bottom intake water pumps, tons of models come in front of you!
Probably you start scratching your head when you decide to purchase just a single model among heaps of choices!
Don't worry, there's always a silver lining! And that's why I've come up with the AQQA Multi-functional Submersible Bottom Intake Water Pump that includes so many jaw-dropping features, starting from the adjustable water flow to the unique run-dry protection.
To need more information about this super-effective water pump, just move a little forward as you're just a single step away!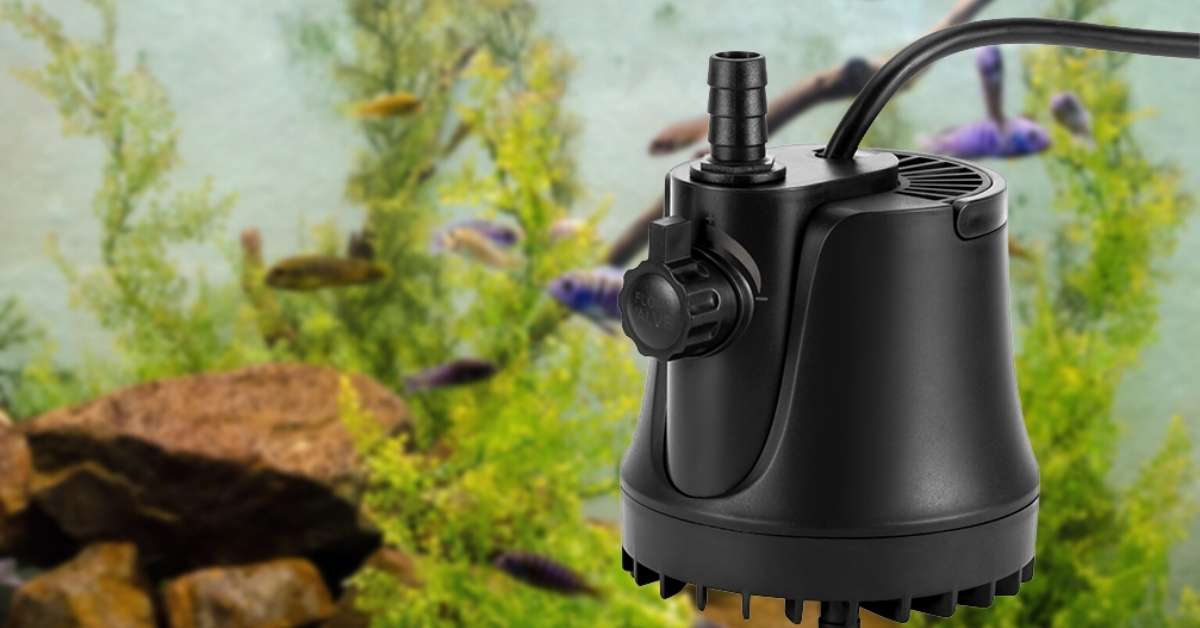 Multi-functional
The very first thing that makes AQQA Bottom Intake Water Pump stand out from the rest is its multi-functional ability. Let it be water circulation, changing aquarium water, oxygenation, or filtration, it can do it all!
And no need to think it's a typical water pump just for aquariums, it is ideal for fountains, fish tanks, waterfalls, ponds, irrigation systems, and a lot more purposes to fulfill your requirements. Really, the name speaks for itself!
Easily Cleanable
Nobody wants to spend their valuable bucks on those bottom intake water pumps which are tough to clean up! In this case, AQQA Multi-functional Submersible Bottom Intake Water Pump has got you covered!
The good thing is – you won't need to purchase anything extra; absolutely nothing because it can be either attached or detached without any tool's assistance. I've found it so compact and the lightweight design makes cleaning it a snap.
For more convenience, you'll get an extra handle to grab it with ease.
Adjustable Water Flow
Unlike the typical choices, the AQQA water pump features two water nozzles (outlet) instead of one, offering numerous effects on water flow. Furthermore, users will be able to control the rate of water flow anytime, the credit goes to the adjustable knob it comes with. To meet your preferences, feel free to adjust the knob by simply rotating it.
Since it's a submersible bottom intake water pump, you first need to keep it inside of your water tank or aquarium and then plugin. If not, there is a big chance of expected burn-out, keep in mind.
Unique "Run-Dry" Protection
There's a unique safety feature that'll come in handy, guess what? Let me tell you – once the overall temperature reaches a degree of 85C, the motor shuts down automatically. And when the temperature appears cool, it restarts in water. That's impressive, eh?
Eliminates Dirt from the Water
Do you think using a bottom intake water pump is just to increase the overall aesthetic of an aquarium, wrong! Because the AQQA Bottom Intake Water Pump also plays a vital role in effectively removing impurities, dirt, or stuff like that.
So by using it, you won't have to clean up your aquarium more often, it'll remain spick-and-span for a long period of time!
Specifications:
It comes in 2 different water nozzles
Adjustable knob with strong suction cups
Unique run-dry protection
The maximum water flow rate is 1,000L per hour
Weighs 1.28lbs
Leak-proof body with a protection cover
The dimension is 5.08 x 5.04 x 4.96"
Included Items:
2 nozzles
A user manual

Pros
Ultra-quiet, versatile and energy-efficient
Eliminates dirt and impurities
Pretty easy to clean, attach or detach
Can be used for both saltwater and freshwater
Suitable for aquarium, water tank, oxygenation, etc

Cons
Might get clogged in case the amount of dirt is too high in the water!
Final Words!

No matter for what reason you're going to get a bottom intake water pump, the AQQA Multi-functional Submersible Bottom Intake Water Pump can be your go-to pick for everyday use. It's versatile, pretty easy to maintain, safe to use, and seems reasonable enough.
And I'm pretty sure you're falling in love with it after looking at its striking features, right?